The assault rifle is a powerful weapon that appears in every game in the Gangstar series.
Description
It is the only battle rifle in the series. The assault rifle is based on the famous AK-47. It has 64 bullets in one magazine. The assault rifle can be found equipped by enemies in missions.
In Urban Crime, it is called the AK-17. It also has two upgraded variations in Urban Crime, such as the gold and platinum version of the AK-17.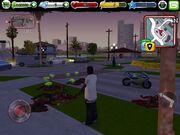 Ad blocker interference detected!
Wikia is a free-to-use site that makes money from advertising. We have a modified experience for viewers using ad blockers

Wikia is not accessible if you've made further modifications. Remove the custom ad blocker rule(s) and the page will load as expected.