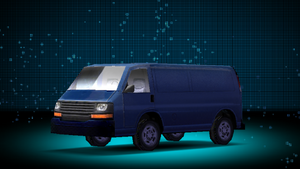 The Box ES is an old van that appears in Gangstar: Miami Vindication, gangstar Vegas and Urban Crime made by Dale's Deals on Used Autos.
Description
The Box ES is a 2 door large van. It was based on a variety of old vans. The Box ES has a pretty slow speed compared to the sedans like the W4C, Delivery or Taxi. It's speed is exactly like the Ambulance and Homm, but its handling is the least efficient. In Vegas the Box is more modern based on Chevrolet Vans,and is one of the cheapest of all vehicles. It costs 111,500. Its top speed is 150 kmph which is 98 mph. Based Chevy Express and [[Toyota Hiace van>http://www.wikiwand.com/en/Toyota_HiAce]].
Ad blocker interference detected!
Wikia is a free-to-use site that makes money from advertising. We have a modified experience for viewers using ad blockers

Wikia is not accessible if you've made further modifications. Remove the custom ad blocker rule(s) and the page will load as expected.