The D340 is a pickup truck that appears in Gangstar: West Coast Hustle, Gangstar: Miami Vindication, Gangstar Rio: City of Saints and Gangstar Vegas. It is an truck that does quite well on offroading. In Gangstar: West Coast Hustle it resembles a Cadillac Escalade EXT. In Gangstar Vegas it resembles a Ford F-150. In Gangstar Vegas it comes in red, grey and blue. It has a slow speed, not so great in police chases. Also in Vegas it costs 269,600 to buy and 61,000 to order.
In Gangstar Vegas, the car can only be found in country neighborhoods and countryside such as Boogies Valley and Fletcher's Park.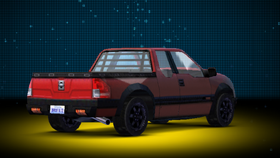 Trivia
It is one of the few vehicles to appear in all games
Ad blocker interference detected!
Wikia is a free-to-use site that makes money from advertising. We have a modified experience for viewers using ad blockers

Wikia is not accessible if you've made further modifications. Remove the custom ad blocker rule(s) and the page will load as expected.