This page needs cleanup.
This page or section needs maintenance. You can help by improving the page's grammar and sentence structure or fix the article layout to bring it to a higher standard of article quality.
Remove this template when finished.
"You held him in your lap, and as he bled all over you. You said you'd sell your soul if only he'd live."
―Stranger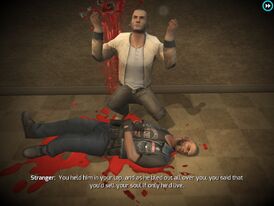 Jason Malone's Brother is a minor character in Gangstar Vegas. After he was killed, Jason Malone said he'd sell his soul for him to live again. he is older brother of Jason Malone.
Ad blocker interference detected!
Wikia is a free-to-use site that makes money from advertising. We have a modified experience for viewers using ad blockers

Wikia is not accessible if you've made further modifications. Remove the custom ad blocker rule(s) and the page will load as expected.